Tue 01 Jan, 2017
The Kids Who Decide What All The Other Kids Talk About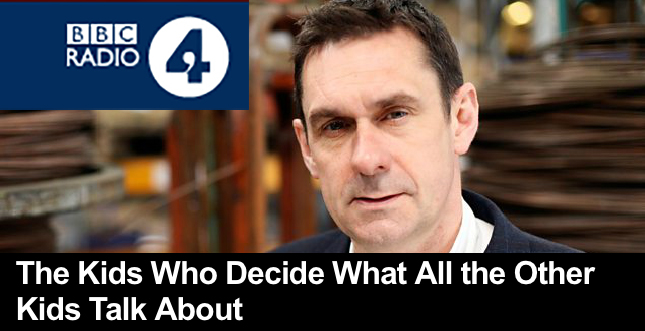 Meet the group of university dropouts who are using social media to influence young people on an industrial scale.
The PRA's Chris Impey has produced a fascinating documentary for BBC Radio 4 about the new frontier in marketing – social media, and you can download it as the latest episode of the Seriously podcast.
In an old cotton mill in Manchester, the one-time students have created a new kind of business. They claim to be able to make any topic the number one trend on Twitter in under 30 minutes.
The CEO of this company – Social Chain – is Steve Bartlett. At 24 years old he's one of the oldest at the company. He appears to have cornered a new market, buying up social media accounts with enormous numbers of followers, and then using them as a means to advertise.
Most of these accounts were started by students in their bedrooms – doing it for the fun of it. But Steve realised their influence was enormous and went about persuading the owners of the accounts to join him in growing his business.
Unlike traditional advertising, the message comes through a secondary source. It's 'word-of-mouth marketing' – the Holy Grail for advertisers. Nothing has more impact on our shopping habits than a friend or someone we trust recommending a product to us.
Social Chain now owns over 400 of the most popular Twitter, Instagram and Facebook accounts. Collectively they have over 300 million followers. After just two years, the company now employs over a hundred young people in offices in Manchester, Berlin and New York. The average age of staff is just 22.
£1.25 billion went on marketing on social media alone in 2015. Paul Mason examines this new economy – the commodification of influence. He considers the ethics of this way of advertising and how it affects trust in the information we're given. Social Chain closely follows regulations laid down by the Advertising Standards Authority, but Mara Einstein, author of Black Ops Advertising, argues that just as the military has moved from face to face action to covert operations, so advertising has moved from being obvious to more hidden – in particular through social media.
Paul explores the concerns with some of the people who use social media more than any other – the so-called 'millennial generation'.