Wed 05 May, 2023
Prison Radio Association wins big at the 2023 ARIAS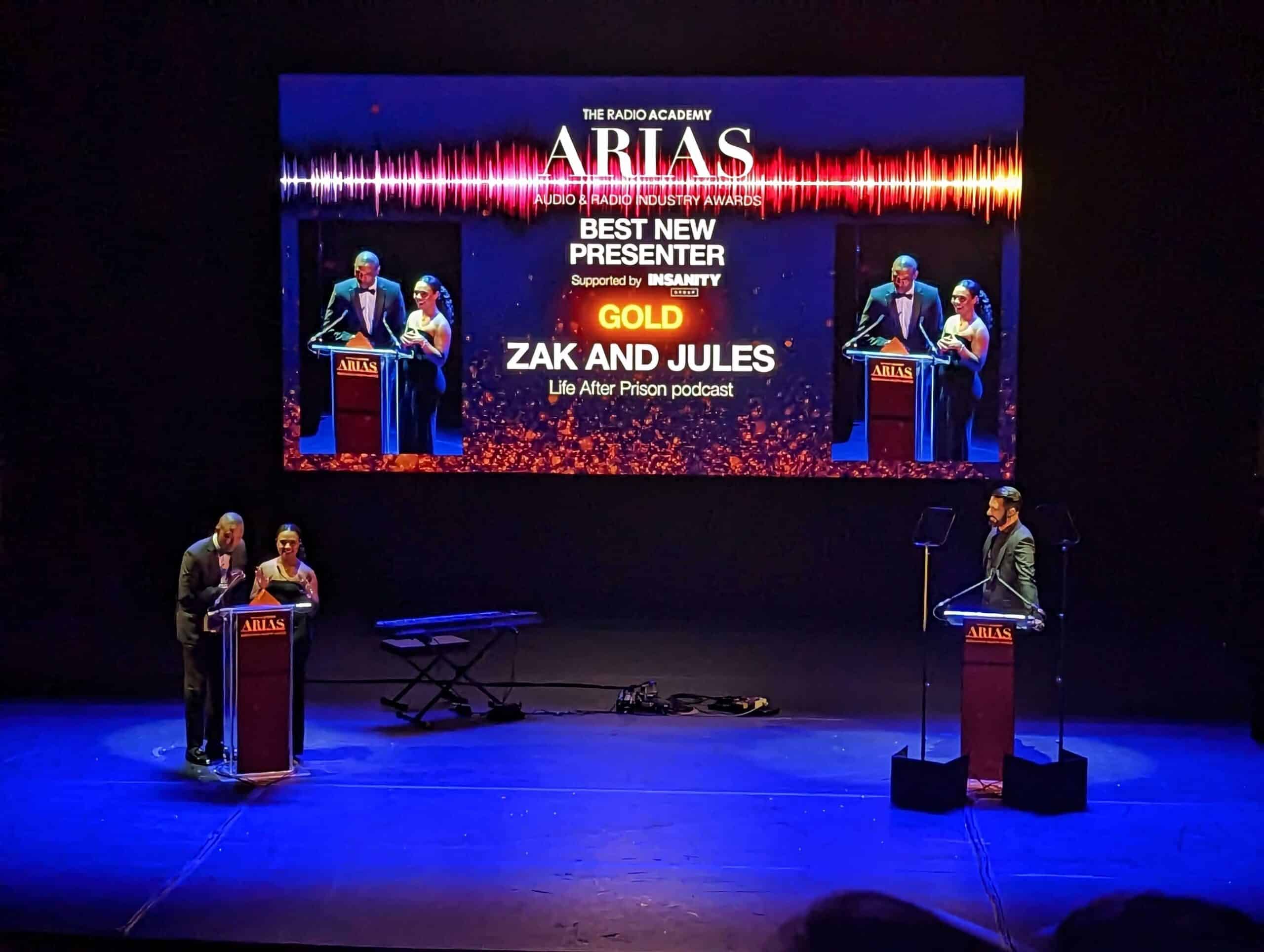 We took home an incredible four awards, including a Gold award for Life After Prison podcast presenters Zak and Jules.
Zak and Jules were crowned Best New Presenters at the 2023 ARIAS – the Oscars of the radio industry – at the Theatre Royal, Drury Lane on Tuesday evening.
The award was presented to the podcast hosts by the actor Rob Delaney, along with the ceremony hosts Rylan Clark and Fleur East.
It's the second year running that the Best New Presenter award has gone to Prison Radio Association talent, following last year's win for Rock Show host James Phillips.
The judges said:
This category was especially hard to judge this year, with a wonderful and rich range of new voices and styles to consider. However the judges found this entry to be powerfully authentic, honest and brave. The presenters weave together natural skill with lived experience to bring the listener right into their world of prison life and what happens afterwards. This is storytelling at its best, by two presenters absolutely in tune with one another.
Zak and Jules were chosen as hosts of Life After Prison in 2022, following a rigorous talent search and extensive auditions.
At the time, both were released from prison 'on licence', under the supervision of probation services.
Zak had been presenting his own podcast for a few months before applying, while Jules had taken part in National Prison Radio productions but had no previous experience as a broadcaster.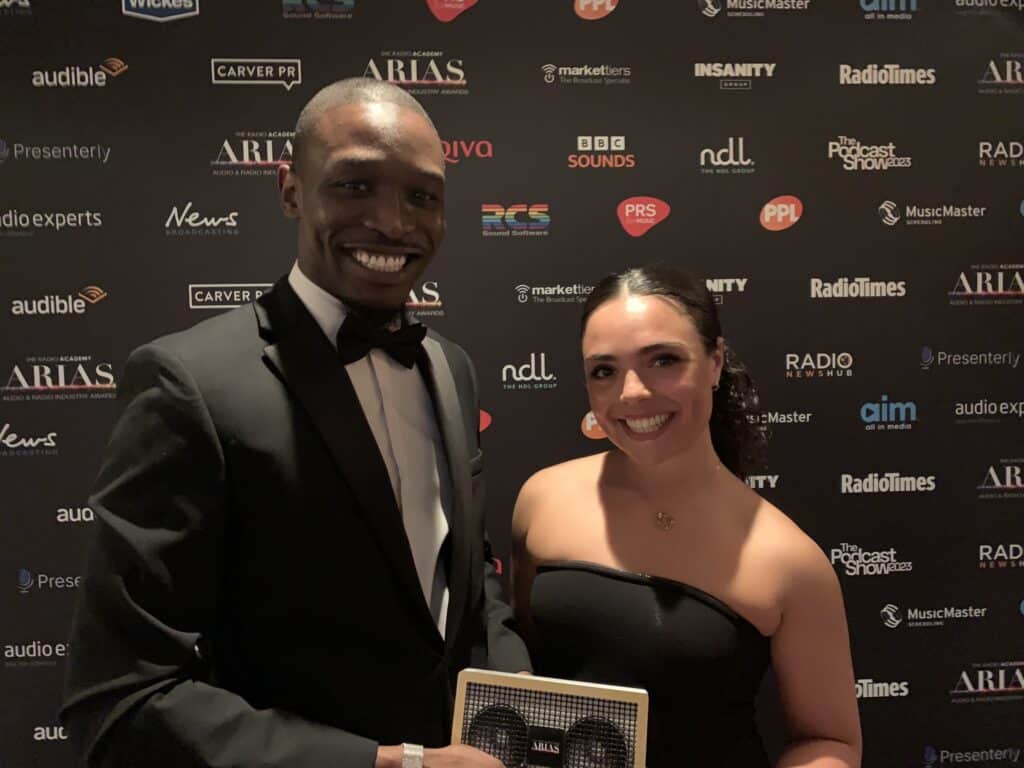 Their shared life experiences ensure listeners to Life After Prison feel in safe hands. They're the authentic article, sharing insights that only people who have spent time in prison could come up with.
They're funny, positive, inquisitive, trustworthy and really, really likeable.
Life After Prison also picked up a Silver award in the Grassroots category.
Other winners included Free Flow sponsored by Shannon Trust, which was the Silver winner in the Best Commercial Partnership category.
Free Flow is hosted by the poet Lady Unchained. She plays instrumentals to National Prison Radio listeners, encouraging them to write and perform lyrics along to the music. Listeners then call National Prison Radio's freephone voicemail to record their bars, and Lady Unchained gives feedback and encouragement.
The partnership with the Shannon Trust is in its first year, and the judges recognised how this creative production directly supports their work in prisons.
Andrew Wilkie, the Deputy Chief Executive of the Prison Radio Association, said of the partnership:
Free Flow is a special show for listeners in prison. Presenter Lady Unchained encourages her audience to use words in a way that's creative, expressive and therapeutic. Partnering with the Shannon Trust for this programme has allowed us to take this creativity to the next level – we can engage with listeners in new ways, while enhancing the amazing work the Shannon Trust do across the country, all using the power of radio. We're delighted the ARIAS judges recognised the strength of this partnership, ranking us up there with the likes of Magic Radio and talkSPORT.
Meanwhile, National Prison Radio's Rock Show won a Bronze award in the Best Specialist Music category.
National Prison Radio broadcasts in to prison cells across England and Wales. It aims to support a reduction in reoffending, by inspiring and informing people in prison.