Fri 03 Mar, 2020
National Prison Radio: a lifeline during the COVID-19 pandemic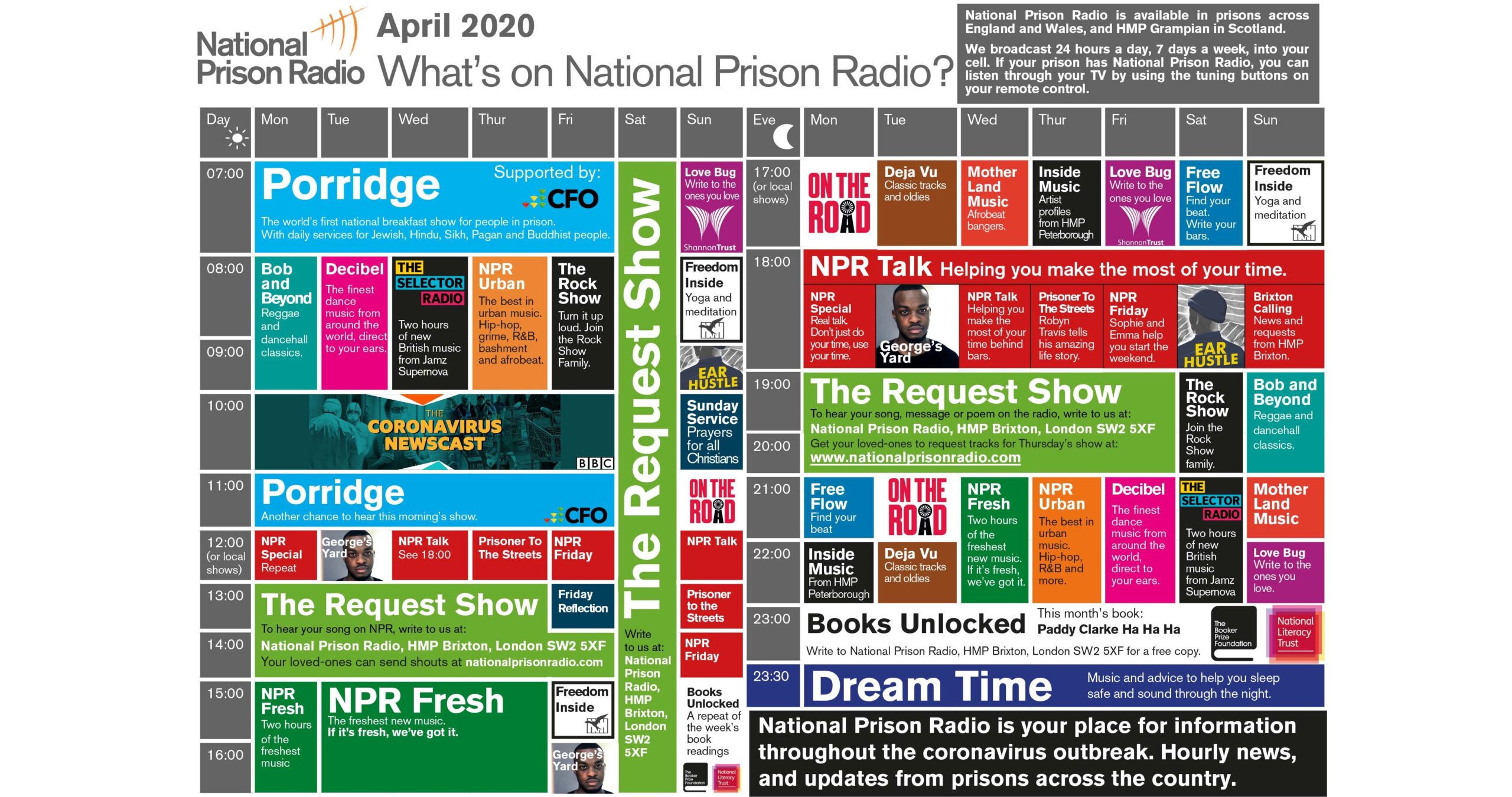 The COVID-19 outbreak presents significant challenges in keeping a 24-hour radio station on-air, at a time when clear information and support for people in prisons is more important than ever.
Through collaboration, diligence and dedication, National Prison Radio is rising to those challenges. We are providing a richer and more important service today than we ever have.
At the time of writing this, prisons are running dramatically reduced regimes.
Many people in prison are locked up for more than 20 hours per day. Usual education and training activities aren't running, or are severely curtailed. People whose prison jobs are essential, like those who work in the kitchens and those who keep prisons clean, are having to work in extremely difficult circumstances.
Prison visits have been cancelled for everybody's wellbeing, but a lack of access to family and loved ones quickly takes its toll on everyone concerned. Despite the best efforts of the authorities, access to prison phones is limited.
Chaplaincy services are dramatically reduced. Pastoral care is still available, but as in the community, regular faith services are all cancelled.
Accurate information about the impact on prison life, and about what's happening in the outside world, is hard to come by. Prison staff are working incredibly hard to support people in prison and keep them informed, but they are stretched and sometimes unable to access accurate information themselves.
This is where National Prison Radio is stepping up to deliver a service that is even more vital than usual.
We have opened our freephone line. It is available to everyone in prison via the wing phones, to allow our listeners to keep in touch with us via voicemail. In the past week alone we've received well over 1,000 calls. These messages go into our programmes across the schedule – whether they're questions to be put to the experts and those who run prisons, messages of support to each other, messages of thanks to prison staff (we get lots of these), song requests or shout outs.
We've adapted our broadcast schedule to provide even greater support to our listeners.
Our regular Prison News updates are being refreshed several times a day, to keep up with rapidly developing situations. These bulletins provide news specifically relating to prison life, such as how the courts and parole boards are operating, what's happening with daily prison regimes, which prisons are experiencing positive diagnoses and what sort of disruption people can expect from other agencies that work in prisons;
Our daily breakfast show Porridge is featuring interviews with people who run prisons, explaining what changes are being made to help support people in prison at this difficult time. For example, temporary changes to the Incentive and Earned Privilege scheme to ensure everyone has free access to a television; information about alternative ways to keep in touch with loved ones; information on the nature of coronavirus and the COVID-19 infection, and how to protect yourself and others if you start to feel the symptoms;
We are running special slots called NPR Reflections, within Porridge, which feature the main faith representatives from the Prison Service's Chaplaincy team. This content is to help fill the gap left by the cancellation of faith services in prisons. We're broadcasting a special Friday Reflection which includes a representative from Humanists UK, followed by Friday Prayers led by a Prison Service Imam. We also have weekly ecumenical service on Sunday mornings for followers of the Roman Catholic Church, Church of England, Free Church and other Christian faiths.
We are doubling our Family and Friends Request Show to four hours per week, allowing even more people on the outside to keep in touch with their loved ones using the power of radio. Anyone can request a track for someone behind bars by visiting nationalprisonradio.com. You can listen back to these programmes there as well;
Our weekly NPR Talk slot has featured interviews with senior operational leads from Public Health England and Her Majesty's Prison and Probation Service (HMPPS) to answer listeners' questions about how the service is responding to the outbreak. Next week we are looking forward to welcoming the Chief Executive of HMPPS, Jo Farrar, to the airwaves;
Our regular NPR Friday show is changing. It's being co-presented by two members of the PRA team – Emma Goswell and Sophie Sveinsson – produced in a virtual studio and designed to keep people uplifted as we approach the weekend;
Our nightly book readings, Books Unlocked, produced in partnership with the National Literacy Trust, are continuing with a reading of Roddy Doyle's Paddy Clarke Ha Ha Ha, starting next week. In addition, we're about to start serialising Robyn Travis's powerful memoir Prisoner to the Streets on a Thursday afternoon.
We're grateful to the BBC for allowing us to broadcast their Coronavirus Newscast podcast, a programme that isn't available to people in prison as it's only available online.
All of this programming is being produced in virtual studios while our regular studios inside HMP Brixton and HMP Styal are inaccessible. We're desperately sad that our regular team of prisoner-presenters isn't able to contribute while things are locked down, but instead we're engaging our hugely talented group of people who have been through NPR's doors and have now been released.
And our staff team are working tirelessly to produce regular programmes to support and encourage people behind bars during what is a time of almost intolerable difficulty and pressure.
We are an independent charity. We fiercely guard our journalistic integrity and editorial independence. But we couldn't operate effectively without the collaboration and support of a range of partners, not least of which is the Prison Service. We are working closely in partnership with HMPPS at this time to ensure we can confirm the latest accurate information is being broadcast directly into prison cells at a time when few other interventions are available to the more than 80,000 people currently living behind bars in England and Wales.
National Prison Radio is a lifeline for people behind bars, and during times of crisis we step up.